Dear Friend,
This week, I questioned Attorney General Loretta Lynch in the House Judiciary Committee's oversight hearing of the Department of Justice. I examined both the DOJ's failure to press criminal charges against Hillary Clinton for her mishandling of classified information and the Attorney General's secret meeting with former President Bill Clinton in light of FBI Director Comey's announcement.
Unfortunately throughout the hearing, Attorney General Lynch was evasive and refused to answer the vast majority of questioning. Click on the video below to watch my questioning with the Attorney General.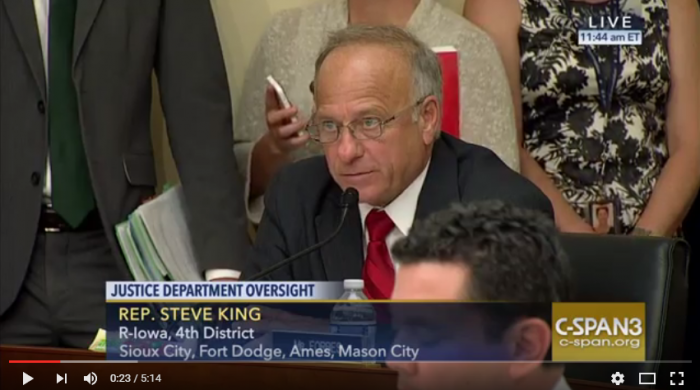 To watch Congressman Steve King's full statement, click here.
Also this week, I along with over 200 House Republicans, including all Republican members of the House Judiciary Committee, sent a letter to FBI Director James Comey demanding answers regarding the many questions surrounding his announcement that he does not recommend federal prosecution against former Secretary Hillary Clinton.
I look forward to Director Comey's response, especially following Attorney General Lynch abdicating her responsibility as chief law enforcement officer by refusing to answer questions posed by members of Congress.
Sincerely,
Steve King
Member of Congress