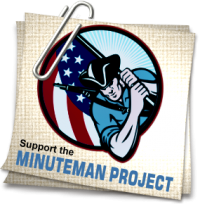 The Minuteman Project is a donation funded grassroots effort, and without your help we will fade. Our mission is as strong as those who stand with us. This means we can only accomplish the task of Restoring America with your help.
Your support makes a difference.
Help the Minuteman Project —
[ X ] – I want to support the work of the Minutemen with a monthly recurring donation.
For donations greater than $ 5,000.00 or property donations, please drop us a note and one of our counselors will contact you.
If you prefer to donate by check, please download and fill out this donation form and mail it with your check.
Contact: JimGilchrist@MinutemanProject.com
California Office
Minuteman Project
P.O. Box 3944
Laguna Hills, CA 92654